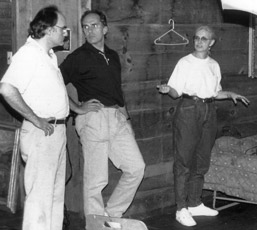 Overlook Digital's owner Tom Colello (left) with Pulitzer and Tony winning writer Michael Cristofer and 3 time Academy Award winning actress Joanne Woodward.
ON YOUR
WEBSITE,

DVD OR REGIONAL CABLE

For over 3 decades Overlook Digital has produced Award Winning INFORMATIONAL VIDEO. Whether it just you talking to the camera, interviews, state–of-the–arts graphics, documentary footage, re-enactments or full scale dramatizations with top flight actors, we can create the right video for your budget. The possibilities are endless!
Product demonstrations
Public Service Announcements
Staff/User Training
Public Relations Releases
Documentaries About Your Business
Customer Testimonials
Business and Not For Profit Promotions
Whether you are attracting investors, clients or charitable contributions these videos tell your company's or institution's story.
Beat the Street
Watch excerpts from a five part series designed to help prevent relapse to addiction for inner city addicts. Funded by a Small Business Innovative Research Grant from the National Institute of Drug Abuse, it won awards from the National Educational Film Festival and the New York Film Festival.
Police Training
Dealing with emotional disturbed persons (EDPs) has become a major part of police work. These training videos model correct procedure to help officers resolve potentially dangerous situations without the use of force. Funded by the New York State Office of Mental Health and Bureau of Municipal Police. This is part of required training in NYS police academies.
Jazz and Blues
These programs document the creative process of All Star drummers Jack DeJohnette and Don Elias, give insight to a bit of jazz history with 83 year old pianist Lee Shaw and teach technique for playing the blues with guitar master Peter Einhorn.
Corporate EAP
Through the use of dramatizations and lectures, managers and skilled workers in large corporations learn the benefits of Employee Assistance Programs. Some of the clients for these projects include:
Westinghouse
Tropicana
Union Carbide
Rockwell International
Addiction Related Issues
A series of videos for recovering addicts that address:
Sexual Addiction
Dealing
Women's Issues
PTSD
Anger Management
Pulling Punches is a 3 part series help recovering addict control there anger which, when ignored, can lead to relapse.
The project was funded and distributed by Reelizations Media and also distributed by Hazelden.
Young People
From grammar school through college, video is becoming an ever increasing part of the multi-media educational environment. Some of the topics we have developed include:
Literacy
Harassment
Work Readiness
Marijuana Use
Binge Drinking.
Behavioral Health for Corrections
These videos are part of the required training for all corrections officer in New York and many other states.
Funded by NYS Office of Mental Health and Commission on Corrections.
Jail Suicide Prevention
These videos are part of a suicide prevention program developed by NYS and certified as a national model the National Correctional Association. When first implemented the rate of suicides in NYS Jails dropped by 80%.